Canine Team Training / Holding Paws - Resources Page
home page
Holding Paws

We can,

do it together!
by Carol Ely, Photos compliments of Abirdy Photos, Inc. www.abirdyphotos.com
Home / Obedience / Agility / NoseWork Info / Student_Info / My Dogs / Seminar/Demos / Resources / Videos & Links / Recipes
Suggested resources for both the professional dog trainer and dog owner
Recommended Books
| | |
| --- | --- |
| The Culture Clash | by Jean Donaldson |
| If Dogs Prayers Were Answered Bones Would Rain from the Sky | by Suzanne Clothier |
| Control Unleashed (Creating a Focused and Confident dog) | by Leslie McDevitt, MLA,CDBC,CPDT |
| Don't Shoot the Dog | by Karen Pryor |
| On Talking Terms with Dogs: Calming Signals | by Turid Rugaas |
| The Power of Positive Dog Training | by Pat Miller, Jean Donaldson |
| Dr. Pitcairn's Complete Guide to Natural Health for Dogs & Cats | by Richard H. Pitcairn, DVM, PhD, and Susan Hubble Pitcairn |
| How to Behave So Your Dog Behaves | by Sophia Yin, D.V.M. |
| Dogs are from Neptune | by Jean Donaldson |
| Click to Calm: Healing the Aggressive Dog (Karen Pryor Clicker Book) | by Emma Parsons |
| Shaping Success (Agility) | By Susan Garrett |
| Clicker Training for Obedience | By Morgan Spector |
| The Whole Dog Journal – Handbook of dog & Puppy Care and Training | Edited by Nancy Kerns |
| Purely Positive Training – Companion to Competition | By Sheila Booth |
| Getting in TTouch with Your Dog | by Linda Tellington-Jones |
| | |
Recommended Web Sites
Links Dog Related - Health Related
"The greatness of a nation can be judged by the way its animals are treated." Mahatma Gandhi
Help someone -
Reflect upon the relationship you have with your pet companion. Is it close, do you confide in him or her. Do you spend more time petting and talking to your pet, than to family or friends? This is important to know and recognize, for this reflects on you. It does not make you a bad person, but a person that should start to reach out to others. The dog is a good place to start and a good example of true unconditional devotion. Follow their example and reach out to others. See what you can do today. Volunteer at an animal shelter. Train and have your dog certified to be a therapy dog and visit people in need of the devotion your dog can give. Perhaps start by helping a neighbor in need, with their pets. Join a dog club and volunteer your time. Join a rescue relocation group to help place dogs in need of a ride, to their forever homes. There are many different ways to help others and many that include animals, just ask around.
But please, contribute in some way.
Suggested links that could use your help -
http://pets.groups.yahoo.com/group/Dog_Rescue_RailRoad/

This group helps move dogs and other animals to no kill shelters and forever homes. To help out, you can volunteer to drive an animal from one location to another. Everyone pitches in and some dogs have been moved from one end of the US to the other (even Canada), with the help of many volunteer drivers.

Lots of nice cooperation in this group.

http://pets.groups.yahoo.com/group/agbeh/

Aggressive Behaviors in Dogs group has over 560 experienced dog trainers helping with aggressive dog behaviors. Only positive-reinforcement "dog-friendly" recommendations are allowed. This group is fully moderated and very professional.

Help transport pets across the country

http://www.puppymillrescue.org/

Puppy Mill Rescue
This link is to a video on people giving up dogs to shelters.
The video is on youtube everyone should watch - www.youtube.com/watch?v=W3Daz6_pWLo
1-22-2010
I just did a training seminar yesterday at a shelter in southern IL to teach volunteer shelter workers on how to help train the dogs they work with to make them more "adoptable". Before starting the seminar I did a walk through and it was hard to see so many dogs waiting for homes. My husband was with and he couldn't understand why so many very friendly dogs were given up. They even had a lot of small dogs besides the usual black dog group. A lot of the dogs had little sweaters on and looked like they should be home sleeping on someone's couch or curled up in their lap and probably did do that at some time. It is very hard and I wish people could become more aware before they purchase that cute little puppy. I hope that the obedience classes that I am doing will help to keep more dogs in their homes. Please if you have skills to help others, help train. Sometimes just teaching them how to walk nicely on a leash or to sit could help to keep them home!
Note: Thank you all volunteers for giving of your time, energy and love. I know it is hard to see them behind bars and not at a warm loving home. You do so much, please hang in there and remember at least you are doing something to help, it is better then ignoring the situation, and I am sure that the furry faces that greet you everyday as you volunteer appreciate your time.
A Big Thank You! Carol Ely
Remember,

we are a

a Team

by Carol Ely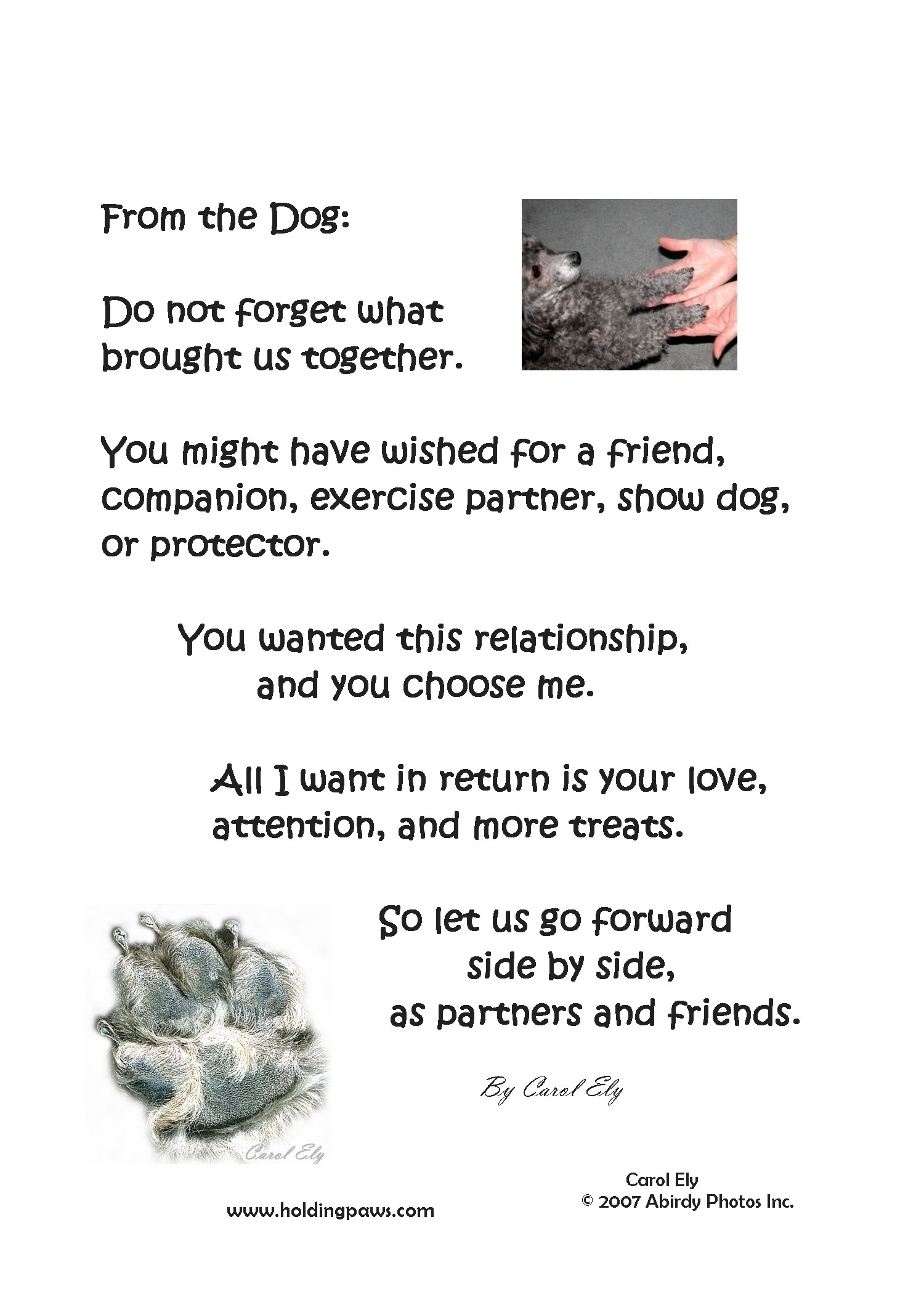 Home / Obedience / Agility / NoseWork Info / Student_Info / My Dogs / Seminar/Demos / Resources / Videos & Links / Recipes
Copyright® 2013 Carol Ely